Event Details

You are cordially invited to our Annual LACBFFA Elections
Thursday, January 23, 2020
Approved for 2 CCS/CES/MES credits
A Panel of the Use of Section 321 and Entry 86 in the Los Angeles Airport
U.S. Customs and Border Protection will give an overview of how the use of the Section 321 release and the Type 86 entry are being used at Los Angeles Airport and their impact.
CBP will include expectations and hints on the proper use of both types of releases. This includes entries subject to other government agency requirement.
This is a chance to better understand the new 86 and ask questions on the proper filing for entries for shipment valued under $800.00.
Speakers
Christine Hogue, Section Chief of Trade Operation, CBP LAX
Jennifer Engelbach, Branch Chief - Client Representatives, Trade Transformation Office, CBP
Registration: 5:30 p.m. – 6:30 p.m.
Workshop: 6:30 p.m. – 8:30 p.m.
The Reef
880 Harbor Scenic Drive
Long Beach, CA 90802
Please note: This is our annual election meeting – watch for your ballot and PLEASE VOTE!
Please send in any questions to info@lacbffa.org prior to the event so that they can be addressed during the meeting.
Christine Hogue
Ms. Christine Hogue is a U.S. Customs and Border Protection Section Chief with the Department of Homeland Security.
She began her career with the former U.S. Customs Service (USCS) in 1991 at the Los Angeles/Long Beach Seaport. During her tenure, she served as an Import Specialist at the Angeles/Long Beach Seaport and the Area Port of Seattle. In 2003, Ms. Hogue transferred to CBP Headquarters in Washington, D.C. as a subject matter expert on the ACE development team. In 2006, she served as the Branch Chief for National Intellectual Property Rights Enforcement and Policy. In 2008, Ms. Hogue returned to the Los Angeles/Long Beach Seaport where she served as an Account Manager and then as a Supervisory Import Specialist in 2011. In 2012, Ms. Hogue became a Section Chief at the Los Angeles International Airport (LAX). In 2016, she temporarily served as the Assistant Center Director of Enforcement for the Electronics Center of Excellence and Expertise located at the Los Angeles Field Office. In 2017, Ms. Hogue returned to LAX as a Section Chief where she is currently assigned. Ms. Hogue has oversight for the clearance of all international cargo imported into the United States through LAX. Her knowledge of Trade policy and enforcement enables her to maintain oversight of cargo entering the U.S. through LAX at over sixty warehouses and five express consignment facilities. Overall, Ms. Hogue has 28 years of experience in managing operations and people. Throughout her career Ms. Hogue has completed a number of leadership and management courses, and served as a mentor as part of the Federal Executive Board of Greater Los Angeles Leadership Associates Mentoring Program. Ms. Hogue has a B.A. in Speech Communications from California State University Long Beach.
---
Jennifer Engelbach
Jennifer has worked with Customs and Border Protection (CBP) for over 25 years as an Import Specialist, Fraud Coordinator, HQ Program Manager, National Account Manager and Client Representative. She has been a Client Representative for a majority of her time with CBP. Consequently, she has a great deal of experience in supporting the trade and aiding in their successful transmissions within the Automated Broker Interface, in the Automated Manifest Systems (Ocean, Rail, Air, and Truck modes), in the Automated Export System as well as the Document Imaging system (via email and EDI).
---
Heidi Wallace
Heidi has worked with U.S. Customs and Border Protection for 32 years. She has held several positions within CBP; Enforcement Specialist, Import Specialist, Supply Chain Security Specialist and Program Manager. Heidi is currently a Section Chief for Trade at the Los Angeles / Long Beach Seaport and has been at the Seaport for seven months. She oversees Trade Branch 1 which consists of Selectivity, Warehouse Audit, Agriculture and the Trade Analysis Group (TAG).
Her professional work in CBP includes developing and delivering presentations for foreign government officials as well as the trade community in English/Spanish, developing and delivering national training for new supply chain security specialists, serves as the "go to" person for colleagues to interpret CTPAT program policies and procedures, and she also served as a key member for the Center of Excellence and Expertise (CEE) electronics industry.
Thank you to our Bronze Sponsor

$500 Gold Sponsor
Company name and/or logo to be used in news releases, advertising, signage, and website
Verbal recognition at the event
Three tickets to the event
One table-top for display purposes
Logo on LACBFFA website
Link to sponsor's website
$300 Silver Sponsor
Company name and/or logo included in news releases and advertising
Verbal recognition at the event
Two tickets to the event
One table-top for display purposes
Link to sponsor's website
$200 Bronze Sponsor
Company name included in news releases and advertising
Verbal recognition at the event
One ticket to the event
One table-top for display purposes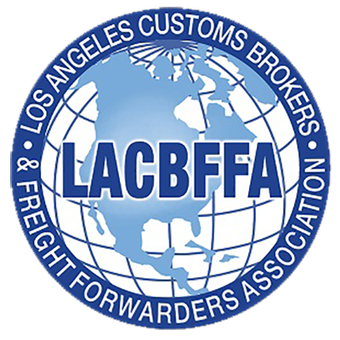 800 Harbor Scenic Drive Long Beach, CA 90802