Event Details
CBP Headquarters Outreach of Entry Type 86 Test
Approved for 1.5 CCS/CES/MES credits

---
Speakers:
Sharolyn McCann, Branch Chief, Commercial Operations, Revenue and Entry (CORE)
Deborah Carriero, Branch Chief, Cargo Control & Release
James Swanson, Director, Cargo Security and Controls
Randy Mitchell, Director, Commercial Operations, Revenue and Entry Division
Moderator:
Mari Bermejo, Geodis
---
This is your opportunity to participate in this timely outreach by CBP Headquarters. Don't miss out!

Tuesday, March 3, 2020
Registration: 8:30 a.m. – 9:00 a.m.
Program: 9:00 a.m. – 10:30 a.m.
Holiday Inn
19800 S. Vermont Avenue
Torrance, CA 90502
Sponsorships are available!
Sharolyn McCann, Branch Chief, Commercial Operations, Revenue and Entry (CORE)
Shari McCann is the Branch Chief for the Trade Processes Branch within CBP's Office of Trade. Her team manages policy for the trade process from Entry Summary through final liquidation for internal and external stakeholders. Ms. McCann recently completed an assignment managing the Antidumping and Countervailing Duty and Trade Remedy programs. She spent many years managing communications for the Automated Commercial Environment (ACE), and began her career as an Import Specialist in the New York Seaport. Ms. McCann has 32 years of federal and contractor experience with Customs.

Deborah Carriero, Branch Chief, Cargo Control & Release
Debbie Carriero is the Branch Chief of the Cargo Control and Release Branch within the Office of Trade. Her branch manages the business needs for all current and future IT programs for systems involving Cargo Release and International Trade Data System (ITDS) capabilities that are needed to support the trade facilitation mission. Ms. Carriero also serves as Capability Owner for the ACE Cargo Release and Partner Government Agency development teams. Prior to joining the Office of Trade, Ms. Carriero was an Entry Supervisor at the Port of JFK in New York. Ms. Carriero has over 33 years of Customs experience.

James Swanson, Director, Cargo Security and Controls
Jim Swanson is currently the Director of the Cargo and Security Controls Division, for Cargo and Conveyance Security, CBP Office of Field Operations. In that role, he has oversight over cargo release issues, export and bonded facility programs. This is his second time with these programs as after 9 years as an Inspector with the former U.S. Customs Service he spent 8 years as a program manager/Branch Chief overseeing a number of different cargo programs including cargo release and truck manifest. He then served as the Area Port Director of Baltimore, Maryland and followed that with four years assigned to the ACE project as the lead for Ocean/Rail manifest development and deployment and the Operational Test Agent for all ACE projects currently under way.

Randy Mitchell, Director, Commercial Operations, Revenue and Entry Division
Randy Mitchell began his career in 1987 as a US Customs Service Inspector at the port of Blaine, WA. In 1989, he moved to Los Angeles, CA to take a position as an Import Specialist in the port of LAX. Randy then took a position in the Office of Information Technology in HQ in 1992 as an ACS Specialist working on ACS entry summary development where he worked on entry summary validations, quota development and statement functionality. In 1994, Randy took a position as a CBP Client Representative in San Francisco, CA and worked in that position for the next 20+ years. In 2016, Randy was named as Director of Commercial Operations Revenue and Entry where he oversees policy for entry summary and post entry summary processes.

$500 Gold Sponsor
Company name and/or logo to be used in event promotion, onsite signage, and website
Verbal recognition at the event
Three tickets to the event
Logo on LACBFFA website
Link to sponsor's website
$300 Silver Sponsor
Company name and/or logo included in event promotion and onsite signage
Verbal recognition at the event
Two tickets to the event
Link to sponsor's website
$200 Bronze Sponsor
Company name included in event promotion and onsite signage
Verbal recognition at the event
One ticket to the event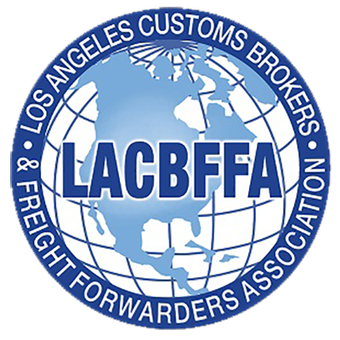 Holiday Inn, 19800 S. Vermont Avenue, Torrance, CA 90502