Event Details
***THIS EVENT HAS BEEN CANCELED***

Approved for 3 CCS/CES/MES Credits
Back by popular demand! Join us and get a close-up view of the Port of Los Angeles and Yusen Terminals. Personnel from CBP, FDA and other government agencies will be invited to join us for lunch and the harbor tour.
Note: A valid government-issued ID is required to enter the Yusen Terminal Facility.
10:00 a.m. - Boat Tour of the Port of Los Angeles
600 Sampson Way
San Pedro, CA 90731
Please arrive by 9:45 am. The boat will leave promptly at 10:00 a.m., so please plan accordingly.
The gate is located to the left of the Maritime Museum, at the foot of 6th St.

If you would like to sign up for the following portions of the tour (which are included), you must register for each using the ticket options below.

11:30 a.m. - Lunch
Green Onion Mexican Restaurant
145 W. Sixth Street
San Pedro, CA 90731

1:00 p.m. - Yusen Terminal Tour (YTI)
Due to limited bus space, this portion of the tour will only be granted to the first 38 registrants.
Yusen Terminal
701 New Dock Street
Terminal Island, CA 90731
---
To pay by check, complete your registration online, and mail your check and a copy of your invoice to:
LACBFFA
320 Pine Avenue, Suite 1050
Long Beach, CA 90802
Questions? Contact the LACBFFA office at info@lacbffa.org or call (714) 316-5270.
Cancellations must be received in writing seven days prior to the event in order to receive a refund or to avoid being billed.
Your payment for this event is not deductible as a contribution or gift under Federal Income Tax Laws, but is most likely deductible as an ordinary and necessary business expense.
---
Antitrust Policy and Statement
It is the unqualified policy of LACBFFA and all of its operating committees to conduct their operations in strict compliance with the antitrust laws of the U.S., and that no discussions shall be held that may infer or lead to violations.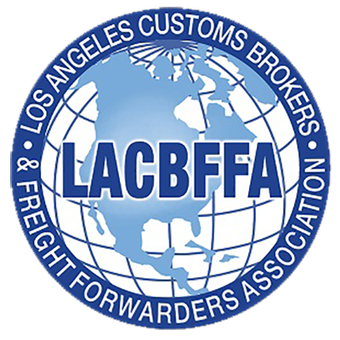 600 Sampson Way, San Pedro, CA 90731, USA