Event Details
Understanding the United States Harmonized Tariff Schedule (USHTS)

Approved for 2 CCS/CES Credits
Presented by
Norman Harris, III
Licensed Customs Broker and Certified Customs Specialist
Learn or review how to use the USHTS as a tool for classification and duty estimation. We will cover the General Rules of Interpretation, General notes, Chapter notes and headings.
As part of the entry process, goods must be classified. 19 CFR 152.11
Under 19 U.S.C. 1484, the "importer of record" under paragraph (2)(B), either in person or by an agent authorized by the party in writing, shall, using reasonable care by filing with the Customs Service the declared value, classification and rate of duty applicable to the merchandise.
Prior to the Customs Modernization Act enacted on December 8, 1993, it was CBP's responsibility to "classify" imported goods. Classifying goods is for duty purposes and determining whether the goods are subject to quotas, restraints, embargoes or other restrictions. CBP is now responsible for the final classification and valuation of the goods by a process called "liquidation" of the entry.
Under 19 CFR 177 an importer may request a binding administrative ruling prior to importing.
This course is taught by Norman W. Harris, III, a Licensed Customs Broker and Certified Customs Specialist. He has been a licensed Customs Broker since 1989 and Certified Compliance Manager. He is also a past president of the LACBFFA.
| | |
| --- | --- |
| Thursday, June 13, 2019 | Holiday Inn |
| Registration: 8:30 a.m. | 19800 S. Vermont Avenue |
| Workshop: 9:00 a.m. – 11:00 a.m. | Torrance, CA 90502 |
Sponsorships are available!
Registration begins at 8:30 a.m.
$500 Gold Sponsor
Company name and/or logo to be used in news releases, advertising, signage, and website
Verbal recognition at the event
Three tickets to the event
One table-top for display purposes
Logo on LACBFFA website
Link to sponsor's website
$300 Silver Sponsor
Company name and/or logo included in news releases and advertising
Verbal recognition at the event
Two tickets to the event
One table-top for display purposes
Link to sponsor's website
$200 Bronze Sponsor
Company name included in news releases and advertising
Verbal recognition at the event
One ticket to the event
One table-top for display purposes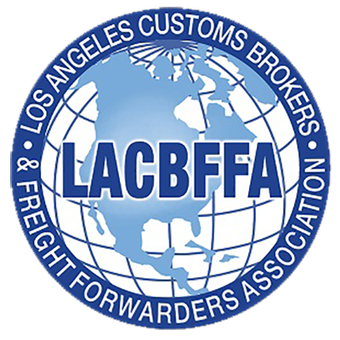 Holiday Inn, 19800 S. Vermont Avenue, Torrance, CA 90502