Event Details
You are cordially invited to our next morning program
Wednesday, January 15, 2020
Trade Forum of CBP/FDA Process for Refused Merchandise, CBP Public Bulletin LA19-007
Approved for 2.5 CCS/MES/CES Credits
This workshop is to notify the trade of CBP/FDA joint effort in Refused Merchandise Processing. The program will cover topics related to the following:
· Section 801 of the Food, Drugs and Cosmetic Act with respect to FDA refused merchandise
· Los Angeles Field Office procedures for CBP/FDA refused merchandise
· CBP/FDA Collaboration
The presentation will be hosted by subject matter experts from CBP Los Angeles field Office and FDA, West Coast Imports.
January 15, 2020 The Reef
Registration: 8:00 a.m. 880 S Harbor Scenic Dr.
Program: 8:30 – 11:00 a.m. Long Beach, CA 90802
Ryan Borges, Supervisory Consumer Safety Officer U.S. Food and Drug Administration

David Shaw, Supervisory Import Specialist Trade Enforcement Coordinator, CBP

Harout Barsoumian, Supervisory Import Specialist, CBP
$500 Gold Sponsor
Company name and/or logo to be used in news releases, advertising, signage, and website
Verbal recognition at the event
Three tickets to the event
One table-top for display purposes
Logo on LACBFFA website
Link to sponsor's website
$300 Silver Sponsor
Company name and/or logo included in news releases and advertising
Verbal recognition at the event
Two tickets to the event
One table-top for display purposes
Link to sponsor's website
$200 Bronze Sponsor
Company name included in news releases and advertising
Verbal recognition at the event
One ticket to the event
One table-top for display purposes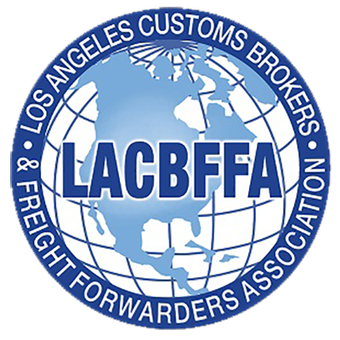 The Reef, 880 S Harbor Scenic Dr, Long Beach, CA 90802, USA